Influencer Mortgages
Influencer Mortgages – Can I get a mortgage if I am an influencer?
Influencer Mortgages – The role of the 'influencer' in today's society cannot be ignored. Whether you are browsing your social media, watching TV or searching "how to" videos on Youtube influencers seem to be everywhere!
Whether consciously or not, everything we do in life is influenced in one way or another by what we experience, or what media we consume.
In this mortgage guide we will explain and answer whether it is possible to be able to get a mortgage off of the back of an influencers income.
Influencers Income
As with many parts of the mass media and internet space, influencers have several options for making money.
They generally choose particular based on niche and individual talents and build a large following across chosen social media platforms (Twitter, Facebook, Instagram, TikTok).
As their audience grows, more options become available to them to make money:
Affiliate Marketing
Display Advertising
Sponsored Posts
Photo and Video Sales
Promote Your Own Products
Precisely how much an influencer makes through marketing & advertising varies.
It can depend on the number of programs & sponsors they are a part of, how much content they dedicate to promoting a partner, the percentage they earn on eligible purchases and of course how many followers they have across their social media platforms.
However, we've seen professional bloggers earn between £1,500 and £4,000 or more per month through their marketing relationships.
Will Mortgage lenders accept the way influencers get paid?
A mortgage lender's main focus when it comes to the assessment of a new borrower is income sustainability and understanding this relatively new industry.
When it comes to sustainability, we have to remember the 5-minute celebrities.
Mortgage lenders have to make sure your income just hasn't spiked during one year and then the income could drop as soon as that person is no longer relevant.
Because the business of an influencer is classed as self employment, many high street lenders will assess income by looking at the last 2 years salary and dividends received (assuming the influencer has incorporated a limited company), or if a sole trader, their net profit.
Sole Trader
As a sole trader when self-employed, it can be a struggle and an overwhelming feeling as to where to start with who is going to be the best suited lender for you based on their lending criteria.
It is even more of a minefield if you have been trading for less than three years or if you have experienced one bad year as in some cases lenders will be unwilling to even consider your application.
It is important to understand that lenders will be looking at your profits when assessing your income therefore it will be important to file your tax assessments before applying for a self employed mortgage.
Limited Company
As a limited company you can be considered in several ways, for example as an employee.
This can present some challenges, particularly if you take a low director's remuneration (salary).
Like any form of self-employment, it is important that your accounts are up to date and clear show your annual income and any company profits.
Frequently Asked Questions – Mortgages For Influencers
Do Mortgage Lenders Prefer Certain Type Of Influencers? (Social Media, YouTube or Reality Figure)
To cut a long story short. No, it doesn't effect anything with the mortgage lenders, they are more interested in the consistency of income.
I only have 1 years accounts In the influencer industry, will my income accepted?
This could be a big issue for a new influencer star who can only demonstrate a single year, or less, of income.
Speak to our mortgage brokers to discuss and see whether we can help you with this.
Another issue is when a borrower has experienced exponential growth of income.
If your number of followers has significantly increased across your Facebook, Twitter & Instagram & your income has doubled or maybe tripled. This could ring alarm bells to certain mortgage lenders.
Arguing that an influencer is a brand rep or marketing agent, is a valid and effective way of demonstrating that the risk of sustainability is reduced by the spread of products an influencer 'influence'.
This should be enough for our mortgage brokers to get some success and to show the bank that lending to you is secure.
This can be demonstrated by evidence of the various income streams that an influencer has. Very often it isn't just YouTube income they receive, but a mixture of companies and products they feed into their income streams.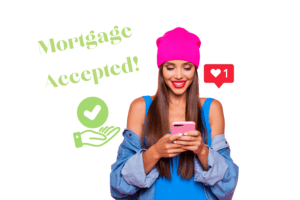 Summary – Mortgages For Influencers
Where there is a story and an explanation that can be evidenced we can have these conversations with our mortgage account managers.
We should be able to get them to be a little more flexible on their criteria.
Evidence can come in all shapes and sizes.
If you find you are in a similar situation and in need of some advice on getting a Mortgage for an Influencer, give us a call.
VIEW OUR OTHER ARTICLES