Right To Buy Mortgage
Getting a Right To Buy Mortgage to Buy Your Council House
We support and process many Right to Buy mortgages. The scheme is a government backed mortgage scheme designed to help your client buy a home they currently rent at a discounted price.
Although buying through this government scheme can be very attractive, it's important to seek specialist advice before going ahead with any house purchase, so read on to find out more about the housing initiative or better yet, make an enquiry with an expert mortgage broker on this topic.
The scheme offers a discount for the purchase of a home rented at a reduced price.
The scheme will be available only if a client is interested in buying a mortgage in order to qualify for it.
This scheme is really popular with first time buyers as it gives them the opportunity to buy their first property with a large deposit, which helps with interest rates.
Right to Buy Mortgages Explained
Right to Buy is a government policy that lets council tenants buy their home at a discount. It was introduced by Margaret Thatcher in the 1980s and remains popular.
It helps council tenants who live in council properties by offering discounts.
You can also make a joint application with someone who shares your tenancy, or three family members who've lived with you for the past 12 months.
You can apply to buy your council home if you share your tenancy with a tenant or three of your family, or you live in a shared housing association.
The mortgage itself will be subject to the usual affordability criteria checks and the discount you will receive can vary based on factors including the property type (i.e. whether it's a house or a flat) as well as its location and value at the time of the application.
Am I Eligible For The Right To Buy Scheme?
You will only be able to purchase under the scheme if your council house or flat is your only or principal home and is self-contained.
The other outlined criteria to be eligible for right to buy is the following:
-They are a secure resident (i.e. there is a legal contract between them and a landlord)
-They've had a public sector landlord for three years (not necessarily 3 years running)
-They are based in England (Wales and Northern Ireland have separate schemes and the Scottish equivalent of Right to Buy has now been abolished)
Of course being able to buy the property and being able to fund the purchase with a mortgage, is also essential.
Although getting a Right to Buy mortgage for a council house is a case of meeting the criteria in the section above, the lender will also want you to meet their affordability and eligibility requirements, so factors including your income and credit rating will be relevant.
Of course it is still important you are able to keep up repayments on your mortgage.
Assuming you are eligible most mortgage lenders will be able to lend to you around 4.5 times your income, so it is critical that we work out this is sufficient enough to be able to buy your discounted property.
There are a few other less commonly known factors to consider which can further impact eligibility, including:
The property type(Description of the property): If the council property your buying has any elements of non-standard construction (e.g. high rise flats, concrete panels), a specialist lender might be required to make sure you get competitive rates.
Your age: If you're looking for a Right to Buy mortgage in retirement, your choice of lenders could be fewer as most providers won't offer a mortgage to anyone over 75. Others stretch to 85 and a minority will lend with no upper age limit, as long as they're convinced you can meet the payments.
How Do I Apply for The Right To Buy Application?
You apply for a Right to Buy mortgage by sending a completed application form to your landlord.
Your landlord will respond by sending an offer of interest within four weeks of receiving an offer.
You also have the right to request an independent valuation if you believe your landlord has overvalued your home. If they refuse to let you buy, they must explain their decision.
Alternatively, you can pull out of buying the property and carry on renting.
You have 12 weeks to decide if you want to buy your home, or not.
What is the discount on Right to Buy?
Right to Buy discount varies depending on where you live, how long you've been a council tenant and whether your home is a house or a flat.
You can find out what discount you might be eligible for using the government's discount calculator.
Once you have an idea of your discount you'll be able to start planning what type of mortgage you want to get, such as a mortgage, you can use the government's discount calculator to check how much you can get the discount.
How long you've lived in the property for?
If you're buying a council house via a Right to Buy mortgage and have lived in it for 3-5 years, you will be eligible for a 35% discount on its market value. After five years, the discount will increase by 1% for every extra year you've been a public sector tenant until you reach the maximum discount, 70% or £87,200 across England and £116,200 in London boroughs (whichever is lower).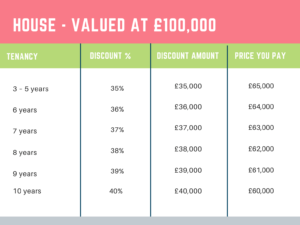 If you're getting a mortgage for a council flat through Right to Buy, the discount you will qualify for will be different. If you've been a public sector resident in this type of property for 3-5 years, the discount will be 50%. After the first five years, it will increase by 2% each extra year until you reach the maximum discount, 70% or £87,200 across England and £116,200 in London boroughs (whichever is lower).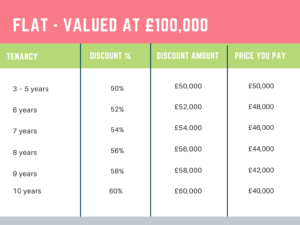 Using your Right to Buy discount as a mortgage deposit
Lenders often will accept a Right to Buy discount as a deposit, but not all will.
Some lenders will ask that you have saved your own deposit in addition to or instead of the discount.
You'll have to save and budget at least a few thousand pounds to buy your council home.
If you have to pay for up-front mortgage fees and survey and conveyancing costs, you need to save at least £1,500.
You'll need to find a lender that offers the discount and other features that meet your needs.
Getting a mortgage with the right to buy discount
If you do decide to buy you will need to go through same process of applying for a mortgage as anyone else without Right to Buy scheme.
Consider all the costs, not just the mortgage repayments.
Don't forget to think about the one-off costs of stamp duty, a survey and solicitor's fees.
You'll have to pay a service charge to the housing association/council for maintenance of the building and surrounding area.
Also, you won't be eligible for housing benefit if you become a homeowner.
Selling your Right to Buy property
If you sell within five years you'll have to pay back some or all of the discount if you sell the house or flat.
You must offer it to your old landlord or another social landlord at the market price before putting it on the open market.
This could make buying your next home slower and more expensive, as well as reducing the amount of equity you have to buy it in your council house.
In 10 years you must offer your council home to your former landlord (Housing Association) or other social landlord before selling it on open market.
Frequently Asked Questions – Right to buy mortgage
Can I get a buy-to-let right to buy mortgage?
You can't get a Right to Buy mortgage for a buy-to-let property initially, but five years after taking out the residential home loan, you could remortgage onto a buy to let mortgage, providing you won't be living in the property yourself, although you will also need to contact your landlord and obtain their consent as well.
The BTL mortgage application will be subject to the lender's usual criteria for these products. Consult us dedicated page on buy to let mortgages or make an enquiry for further information.
Some Buy to Let mortgages are not regulated by the Financial Conduct Authority.
How can a Right to Buy broker help me?
The Right to Buy process can be daunting if you've never applied for a mortgage before or are unsure about how Right to Buy works. Getting help from an advisor can take the pressure off and make the process a lot less stressful.
Here's how a Right to Buy mortgage broker can assist you through each step of Right to Buy. These are the processes Alexander Southwell Mortgages Take:
Submitting your mortgage application
Discussing Repair and maintenance costs
Mortgage payment protection insurance
Building & contents insurance and life insurance
Service charges if you bought a leasehold property (usually flats and some new builds)
How long does the Right to Buy process take?
If your landlord agrees that you have the right to purchase your council house & you are happy with the value of the property (market price), they must put this in writing within eight weeks of telling you (12 weeks for a leasehold property).
We recommend that you contact our mortgage brokers for mortgage advice and state you need a mortgage as early in the process as possible, this allows us to prepare to submit a right to buy scheme mortgage.
The Right to Acquire process itself takes between nine and 12 months to complete, on average.
How does bad credit affect eligibility got a Right to Buy mortgage?
In a nutshell, the more severe and more recent the instance occurred, the more it is likely to affect your right to buy application being accepted, and the more likely you are to be offered an adverse mortgage product.
The most important thing to keep in mind, though, is that bad credit doesn't necessarily mean you can't get a mortgage with favourable rates. Contact our brokers and we will connect you with a lenders who specialises in borrowers with adverse credit.
I am Self Employed, can I use RTBs?
Lenders are gradually becoming more open to lending to the self employed, but even in "normal" circumstances, as a minimum you will need at least 1 full years worth of self employed accounts.
This isn't just for right to buy mortgages or housing association tenants. This requirement is pretty normal regardless of purchase price, deposit & any mortgage.
Most lenders feel more comfortable if you have 3+ years of books to prove you have a reliable form of income, but if you have instances of bad credit against your name, some might require more years' worth of books, or may insist on a higher deposit to minimise the risk.
Read more about self-employed mortgages in our guide.
Can I get an interest-only mortgage through the right to buy scheme?
In theory, yes, but reality is very unlikely, interest-only Right to Buy mortgages are rare. Most providers, especially high street lenders, only offer interest-only residential home loans to borrowers who have a viable repayment vehicle & they make it very difficult to obtain. Sometimes they can ask for a high amount of equity or a very high amount of income.
Can I get A right to buy mortgage if I am retired?
Getting a right to buy mortgage if you are retired is possible for some however the term "retired" is broad and perhaps does not describe an applicant's full circumstances.
Typically, an assumption of a person who is retired will be that of an applicant who is of a more mature age and this can be a factor that will mean certain lenders will not be able to assist.
However, age is not a barrier to all lenders and much will simply come down to affordability as with an applicant of any age.
This means that for those that qualify a right to buy mortgage even if you are retired is very much a possibility.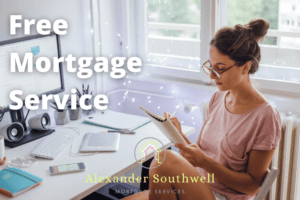 Talk to our right to buy mortgage broker specialists
Our friendly mortgage advisors can manage the entire mortgaging process from start to finish.
We'll work closely with you to source a deal that will help you achieve your financial goals. We will work around the clock to ensure your mortgage application goes as smoothly as possible. Contact us today!