What Is A Green Mortgage?
So What Is A Green Mortgage? An Introductory Guide
The Government of the United Kingdom since 2017 has encouraged mortgage companies to develop green mortgage products.
Green mortgages take account of their less risk associated with environmentally conscious properties.
There are now a growing number of green mortgage lenders – some specialist lenders and a couple of high street brands.
Those that have offered green mortgages either offer preferent terms in cases where they buy one of an energy saving product or commit to the improvement of the efficiency of.
Lending facilities offer green mortgages to customers who buy energy efficient homes or improve efficiency of their current property.
The government announced it would also open green mortgages for new build properties.
What Are The Rewards For An Energy Efficient Home?
Some lenders reward you for different reasons. Some lenders give you lower interest rates and larger loans when you buy an eco home.
These are mainly for New Build properties.
Other lenders give you lower per cent interest rates, cashback or larger loans when you make energy-saving improvements to your current home.
How Do I Qualify For A Green Mortgage?
Lending is all about risk. Lenders offer lower rates for more energy efficient homes because they think lending on green home buildings is less risky.
Currently some of the lenders state the below for there green home mortgage deal:
Barclays – Green Home Mortgage
Requires an energy efficiency rating of 81 or above for an Energy Performance Certificate & other criteria for the mortgage has to fit.
NatWest – Green Home Mortgage
Requests an Energy Performance Certificate band A or B. Maximum Loan to Value is 85%
Nationwide Building Society – Green Reward Mortgage
Requires a minimum energy efficiency rating of 88. Maximum loan to value of 85%.
There are a few more lenders offering a range of two year fixed & five year fixed rate mortgages. There are currently no mortgage lenders offering green energy efficient home mortgages on a buy to let property.
Energy Efficiency Ratings Explained
Every home must have an Energy Performance Certificate (EPC) when it is built, sold or rented – this gives the property an energy efficiency rating from A or 100 (most efficient) to G or 0 (least efficient) and is valid for 10 years.
New-build homes will have a Predicted Energy Assessment (PEA) before they're finished. This will give you a predicted energy efficiency rating, which you'll need to confirm this mortgage.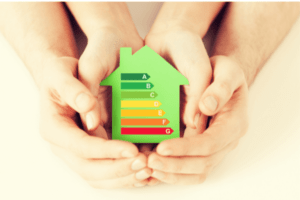 Are There Any Downsides Of A Green Mortgage?
Overall the Green homes strategy is a great scheme to encourage households to make their home a more energy efficient properties.
Criticism of the initiative focuses on the fact that green mortgages do nothing to support the retrofitting of older homes.
The main cause of carbon emissions in the UK. Government figures show that 94% of new homes are rated A to C, compared to just 39% of existing stock.
In addition, the initiative is unlikely to help landlords and investors taking out Buy to Let mortgages.
Homeowners may feel discouraged from investing in energy efficiency measures by other factors.
A lack of awareness, the level of hassle involved in making home improvements, the length of time for energy saving measures to cover the cost paid out in their installation and by the mismatched incentives between tenants and landlords.
What Kind Of Deals Can I Get?
If you're already with a bank that offers green home mortgages, some of the deals could be a great way of accessing more money to fund home improvements.
But if you're looking to buy a new-build or existing property with an EPC rating of A or B, is it worth taking out a green mortgage to save money or sticking to a standard mortgage product?
Products are forever changing, currently there are deals which offer £250 cashback, some deals have lower interest rates & some banks lower their product fee.
In a recent report, it said lenders should consider reviewing their rules to encourage green mortgages and offer additional borrowing to help homeowners make energy efficient improvements.
With this in mind, we can expect to see more of these types of deals appear in the coming years, this would also make them more competitive.
Will Green Mortgages Become More Common?
It is said 19m of the 29 million homes in the UK have an EPC Rating of lower than C.
To meet its emissions target by 2050 the UK should ensure that all properties should be aiming for a B rating.
The ministry for Economic, Energy and Industrial Strategy (BEIS) said lenders could play a key role in achieving this goal.
As consumers and lender interest grow in climate change and sustainability in the coming years we can expect more green mortgages.
How Can I Make My Energy Performance Certificate (EPC) higher?
Insulation in lofts and cavities is crucial in preventing heat loss.
A new boiler will be an efficient way to supply heating and hot water while using solar panel solar generation generate their energy yourself.
The double or triple glazing is essential to prevent heat loss.
What should I do before I apply for a green mortgage?
Gather & Prepare Your Documents
There are a few things you'll need to apply for a mortgage in the UK. Before we start our search for the loan we would request:
ID in the form of your passport or driver's licence.
Three payslips
Four months' bank statements.
Download Your Credit File
Lenders use your credit score as a tool to assess your eligibility for a mortgage.
Having recent and severe forms of credit such as CCJ's, Defaults or Bankruptcy, can make some lenders apprehensive about lending large amounts of money to you.
Knowing what lenders can see when assessing you can help you prepare and even improve your credit score in the months prior to application.
Repay Any Debt If Possible
Try to repay any outstanding debt. Some client have credit card debt they have forgot to repay even though they have the saving to clear this, try to make these as small as possible before submitting any application.
That's why talking to a mortgage broker can help.
Your broker works on your behalf to find you the right mortgage deal. Whether that be with a green mortgage lender or not, ultimately saving you money.
Your mortgage broker can assess your circumstances and advise you whether a green mortgage would be the most financially viable and suitable route of homeownership for you.
They know the lenders that will be more likely to accept you and can assist with your application. Helping to avoid any errors that could cause delays.