Best Places To Live In Southampton
In this property guide we will be discussing the best places to live in Southampton in our opinion.
We won't be writing a list of places as this will vary significantly depending on your circumstances.
Being a mortgage broker in Southampton it is critical for us to understand the different area's as this helps us aid our client in their property search.
Depending on area we also have a great knowledge of the different property types throughout the area. This is important to make sure we submit clients applications with the correct lender first time!
Southampton has 326 acres of fields and wildlife located in Southampton Common alone. The port city is rich in culture and activities and is the closest to the New Forest National Park.
It has become a favourite place for students, young professionals, families, retirees and sailing and cruise lovers.
With its universities, hospitals, theatres, music and arts venues, it is a developing cultural hub.
The city is one of the greenest cities in the UK and has excellent transport links and connections to the rest of the country with great connections by land, sea and air.
Southampton is a major port city and lies at the confluence of three rivers. The city has a rich history and heritage that its residents rarely appreciate.
It is well connected to other areas which can make it a commuter town, a lot of people living in Southampton commute to London, Portsmouth & many other close cities.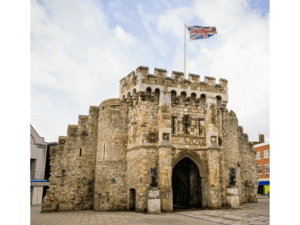 Is Southampton An Expensive Place To live?
Property investment has been great for Southampton for many years now. With the steady house increases and high rental yields make it an ideal place to search for a new investment or to sell your current one.
There are new properties are emerging in the Cultural Quarter of Southampton, close to arts venues and Southampton Solent University, with flats also becoming available across the River Itchen and Ocean Village.
If you want to live nearer to the New Forest, over the M27 Chilworth offers properties, as well as Hythe near Southampton Water, where there are good schools and access to the New Forest.
The average price for property in Southampton stood at £337,232 in July 2021. This is a rise of 12.54% in the last twelve months. In terms of other specific property types:
Detached Houses In Southampton
The current average value for detached houses in Southampton is £492,956, but the average price paid currently sits at £468,806. This is a +9.77% (+43,880) increase in value compared to the 12 months previously.
Semi-Detached Houses in Southampton
The current average value for semi-detached houses in Southampton is £311,054, but the average price paid currently sits at £303,310. This is a +9.64% (+£27,350) increase in value compared to the 12 months previously.
Terraced Houses In Southampton
The current average value for terraced houses in Southampton is £265,253, but the average price paid currently sits at £249,253. This is a +14.20% (+£32,974) increase in value compared to the 12 months previously.
Flats In Southampton
The current average value for flats in Southampton is £193,465, but the average price paid currently sits at £172,428. This is a +4.99% (+£9,188) increase in value compared to the 12 months previously.
*****Information taken from Zoopla (July 2021)
Best places To Live In Southampton & Southampton City Centre
Great areas In Southampton For Families
Netley
Netley is a historic area south-east of Southampton with its shingle beach and traditional houses. The village is on the edge of Southampton and is home to Netley Abbey.
There is an hourly train service to both Southampton and Portsmouth – an ideal place for commuters. The average train journey to Southampton transport to Portsmouth is just 18 minutes, taking around 45 minutes.
Bassett
Bassett is a largely residential area to the north of Southampton city centre.
Located between Glen Eyre halls of residence and Southampton Sports Centre.
Southampton has two courses (18-hole and 9-hole) at Southampton Golf Course.
The site is popular with families, due to its proximity to open spaces and open land.
It's one of many open spaces to be located in the north-east of city centre, with large areas of open space.
West End
West End is located in the North-East of Southampton and is home to Hampshire County Cricket Club.
The annual West End Carnival celebrates the parish's active local history.
The Hampshire County cricket club and its stadium are the home to the Ageas Bowl.
Nearby is the Itchen Valley Country Park with a play area, play trail, off-road cycling track.
There are a number of listed buildings in this city suburb, as well as the ornate Victorian buildings which can be found on the high street.
University Of Southampton Student Areas
Portswood
Portswood is a great area for student life and is within walking distance to the University of Southampton's Highfield Campus.
The area is close to the city centre, taking 15 minutes by public transport. It is also near to Solent University, and a walk-by-bus route to the university of Southampton.
Some of the city's best dining and nightlife options are in Portswood.
Southampton City Centre
Student homes in Southampton's city centre are located in the city centre.
They are just a few minutes away from Solent University, which is located nearby.
The city centre is known for its vibrant social scene, and is popular with local amenities. Some of the city's most popular bars & Nightclubs are also nearby.
The Mayflower theatre, Nuffield Theatre and The Stage Door are in the area.
The city is of course best for those who want to be at the heart of the action in the central area.
The Polygon
The Polygon is one of Southampton's most popular student districts.
Known for its exciting nightlife, it is also known for its bars and pubs around the Bedford place area.
Solent University is just around the corner and University of Southampton is just a 10-minute journey.
Watts Park is within walking distance, which is perfect for fresh air.
Top Areas In Southampton For Professionals
Ocean Village
Ocean Village is the site of Southampton's first docks.
It will offer a harbour for boats, bars and restaurants.
The marina is one of the key locations in the city centre. With its marina view dining at Harbar On 6th, Blue Jasmine Restaurant or Banana Wharf, it is easy to see why this area gets so much attention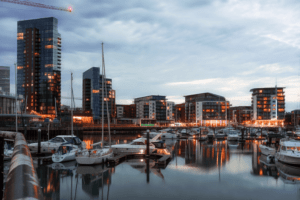 Best Areas In Southampton For Hospital & NHS Staff
Shirley
Southampton is an advanced city and is renowned for medical research and efficient, successful hospitals and health care practices.
Shirley & Upper Shirley are great locations for anybody who needs to commute to Southampton General hospitals, with increasing traffic on the roads most parts of Shirley is within walking distance to the hospital.
Lordswood
Similar to above, the area is located very close to the main hospitals within Southampton.
House prices are very affordable in Lordswood, so this might be a great area for a starter home if you are a first time buyer.
So, is Southampton a good place to live?
A bad or good neighbourhood in Southampton will depend on its judgement.
Violent crime was the main crime area in Southampton with the highest crime rates.
However, crime rates in Southampton are lower than the UK average.
Southampton is a university city and home to universities like the University of Southampton and Solent University.
City is crucial to UK's cruise industry and large cruise ships will regularly be seen in Southampton waters.
Whether you are looking for a student investment property, a apartment overlooking the water, a young family wanting offstead outstanding schools or simply retired and looking for easy transport links and local amenities then Southampton, in our opinion, really does offer something for everyone.
Check out of other similar articles!
What type of survey is best for you?