What is a mortgage in principle?
In this article, we will be explaining every around about what is a mortgage in principle?
One of the most important process as a first time buyer is working out what size of mortgage you can afford. A mortgage in principle will allow you to do that, and prove to sellers that mortgage lenders are willing to give you a mortgage.
It is always worth getting an agreement in principle whether you are moving home, a first time buyer or even looking to purchase a buy to let property.
The actual amount you will be able to borrow will be based on a wide range of factors including your credit rating, income, existing credit commitments and employment circumstances.
To get a more accurate assessment of how much you are likely to be able to borrow, it's usually a good idea to get a "mortgage in principle" as early in the process as possible, but what is a decision in principle?
What is a decision in principle?
A decision in principle – also called an agreement in principle (AIP), decision in principle (DIP) or a mortgage in principle – is a written indication from a bank or building society (the lender) stating how much it might be prepared to lend you.
It's not binding contract (they could still refuse you a mortgage on those terms) but it's a very useful indicator of what you can probably borrow, and estate agents take them seriously when you are looking to view or offer on any of their properties, as this shows you are a serious buyer.
Applying for a agreement in principle
You may find the mortgage in principle referred to by other terms such as "agreement in principle", "decision in principle", or even by a brand-specific name such as Halifax's "Mortgage Promise".
Whatever they call it, the meaning is the same: a mortgage agreement in principle is an initial agreement that the lender is prepared to grant you a mortgage, and a qualified declaration of how much they will let you borrow.
The mortgage in principle is based on the initial personal details you provide about your employment status, income, how much you want to borrow and other factors, in combination with a credit check run against one of the UK credit reference agencies.
Based on this information, the lender can make an initial decision about your creditworthiness and provide an agreement in principle stating how much they would be willing to lend you.
At Alexander Southwell, we will be able to apply for a decision in principle once we have all of the relevant information.
This is not a long drawn out process, this can take as little at a couple of hours to get and then we can forward the certificate to you once the credit score has been checked.
Will applying for a mortgage in principle affect my credit rating?
A mortgage in principle requires a credit check. This will be done via either a soft or a hard search on your credit file depending on the mortgage lender.
A soft search simply checks against your file without leaving a 'footprint'. As this check won't be visible to other lenders, it shouldn't affect your
A hard search shows on your credit history as an application for credit.
While the hard search itself shouldn't affect your credit rating, if a lot of hard searches are made on your file within a short space of time, lenders looking at your credit history later for your full mortgage application may think you've been rejected for credit several times and choose not to lend to you.
It's worth finding out which lenders do soft credit check and which use hard searches beforehand. When we find out who is willing to lend to you, we will also look for a mortgage lender who will carry out a soft credit check and give you an idea of what rates and monthly payments you would be looking at.
Remember, it's good practice to regularly check your credit file anyway prior to getting a mortgage agreement, whether you're planning a big purchase or not. It'll give you time to sort any problems or to add a note to your file if something from your financial past could affect it.
Check your credit score today!
In order to obtain your report and get a clear idea of your credit file, click on the below link to get a 30 day free trial with CheckMyFile and download your report, after the free 30 day trial they will charge £14.99 per month & this subscription can be cancelled anytime.
Provide us with a credit report today, and uncover the issues that might be affecting your credit file! CLICK HERE to access your free credit report with the four top credit agencies all in one report!
Things to do before you apply for a mortgage agreement in principle.
– Make sure you are on the electoral roll. If you have had voters cards delivered to your address, this is an indication that you're already on it. But if you're in any doubt, speak to your local council office. You will have big problems obtaining a mortgage if you aren't on the electoral roll, so make this a priority.
– Get your financial house in order. Take steps to improve your credit score, get rid of any overdraft, and consistently pay your loans on time. When there are minimal financial discrepancies, you will reduce the chances of your full application being turned down.
It's generally better to use a mortgage broker since we will have access to a greater range of mortgage than you can find on the high street or online. We cover the whole of the UK.
You can also save time this way, we can find you the best potential mortgage deal straight away.
This means that as soon as your offer is accepted you can just call up your broker and request them to confirm mortgage deals, calculate mortgage payments, choose mortgage provider and proceed with the full application and get a mortgage offer as soon as possible.
Frequently Asked Questions – What is an agreement in principle, AIP?
How much does a decision in principle cost?
There usually won't be any charge from either a lender or a broker for a mortgage in principle. Usually a mortgage broker will only charge once your mortgage deal is secured but with us, we will be fee free throughout the process.
How reliable is a mortgage in principle?
A mortgage in principle is just what it sounds like – an indication of what a mortgage lender may, in principle, let you borrow.
It remains conditional on you being able to meet the criteria for the decision in principle, and is not a promise or guarantee.
If we was to put a figure on this, I would say 95% of the agreement in principles we process would process with the mortgage application and go on to get a mortgage agreed. The full mortgage application process takes an estimated 2-3 weeks.
How long does a mortgage in principle last?
This varies depending on the lender we are proceeding with, most agreements last for 90 days. If you haven't found a property or had an offer accepted in that time, you may need to get another.
Renewing it should be straightforward unless your circumstances (or the economy) have significantly changed.
Bear in mind that if any of the details you give when applying for the mortgage in principle change during the validity period (for example, you change jobs) you may need to check with your mortgage broker to make sure that your mortgage in principle is still valid, and renew the application if necessary.
When should I get a mortgage in principle?
As soon as you've made up your mind to start home-hunting seriously and you are constantly searching Rightmove every day, apply for a mortgage in principle.
Aside from its practical uses, this will help you to focus on your task and commit to it and tell you how much you could borrow.
Knowing what you can afford, even just in theory, delivers a huge confidence boost and make you ready to head back to the estate agent and make an offer.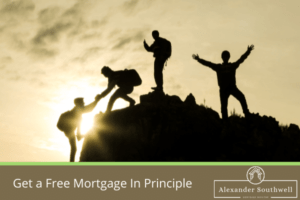 Free mortgage advice from AS Mortgages
We can help you with all your mortgage and protection needs, get in touch with our mortgage brokers today.
Related Mortgage Guides