Key Worker Housing Schemes 2023
Key Worker housing schemes is a highly important way in which workers in certain eligible organisations can access their local housing market for a reduced outlay.
Housing schemes for key workers used to centre on various Government housing initiatives and are normally run by housing associations.
Some local councils, social landlords and private housing developers run their own initiatives, though these can vary depending on your local council, the part of the UK you live in and your own circumstances.
Finding a suitable house buying schemes 2023 is the first hurdle, as you'll also need to know which lenders are most likely to approve your mortgage application. This can be a complex process, which is why many key workers come to our mortgage broker to help them get on the property ladder.
We've created this short guide to explain the options that may be available to you but if you're in a hurry, feel free to send your questions directly to the team via WhatsApp or directly contact us today.
Housing Eligibility for Key Workers
For each organisation, there are specific criteria which are used to establish key worker housing eligibility, but there are some general conditions common to all key worker schemes. These are:
Household income must not exceed £60,000 per year
Employees must have at least 5 years to serve before reaching retirement
Applicants have to prove they can't buy a suitable home within practical travelling distance of their work without financial help
Applicants must have UK or EU/EEA citizenship or have indefinite leave to remain in the UK (NB people without indefinite leave to remain MAY be able to qualify if they can prove they can get a mortgage, afford the repayments and sustain their ownership);
Applicants must be able to prove they have savings or access to at least 5% or more in order to cover property purchasing cost
Applicants must be in permanent employment (NB some temporary workers with at least 6 months remaining on their contract but with likelihood of contract renewal may be considered)
Some schemes also require the applicant to be first time buyers, some even have to be local first time buyers to fit the eligibility criteria.
Available Schemes To Help Key Workers Get On The Property Ladder 2022
Right To Buy
Tenants of council or social housing can buy the house they live in at a large discount from the market rate as long as they've lived in them for a minimum of 3 years. The discount increases the longer the tenant has lived in the property. Click for more information about Right to Buy
With its primary aim to build one affordable rental house in place of every house sold, it maintains the level of affordable housing while also providing properties for those waiting to purchase.
Help To Buy Equity Loan
This equity loan scheme, aimed at first time buyers, helps buyers purchase properties with a deposit as low as 5% by offering them a Government loan to pay the rest of what would have been the deposit. The Government loan itself is interest- and payment-free for 5 years. Only eligible for new homes. Click for more information about the Equity Loan Scheme.
In the short term, Help to Buy can make for convenient borrowing and is especially great for key workers who cannot afford to put down a large deposit to secure a mortgage.
Shared Ownership
An alternative to the equity loan scheme is Shared ownership, it is a scheme that helps people who can't afford a mortgage on 100% of a property. Shared ownership allows you to buy a share of your home – between 25% and 75% of the home's value – and pay rent on the remaining share.
You may have the option to buy a bigger share of the home at a later date, this is called staircasing.
Shared ownership scheme is available for new and second hand properties and these properties are usually (although not always) sold with a leasehold of 99 years. Click for more information about the Shared Ownership mortgage advice
First Homes Scheme – Key Worker Scheme
This is a fairly new key worker scheme and was only launched in June 2021. It is quite a bit different to the equity loan scheme and shared ownership scheme through the housing association.
The First Homes scheme will help local first-time buyers – many of whom will be key workers like teachers,  NHS staff and veterans – onto the property ladder by offering homes at a discount of at least 30% compared to the market value of the total house price.
That same percentage will then be passed on with the sale of the property to future first-time buyers, meaning homes will always be sold below market value – benefitting local communities, key workers, and families for generations to come.
When you contact our mortgage broker we will have access to all of the government schemes, whether it is for a new build local authorities key worker scheme or a standard house purchase as a first time buyer, we will be able to provide the best mortgage advice to get you your own home and take you through the application process.
95% Mortgages
The mortgage guarantee scheme allows first time buyers to purchase a home with only a 5% deposit. The scheme will help to increase the supply of 5% deposit mortgages for credit-worthy households by supporting lenders to offer these products through a government-backed guarantee.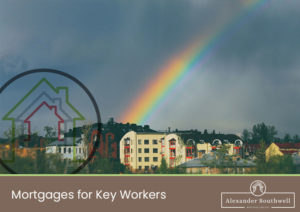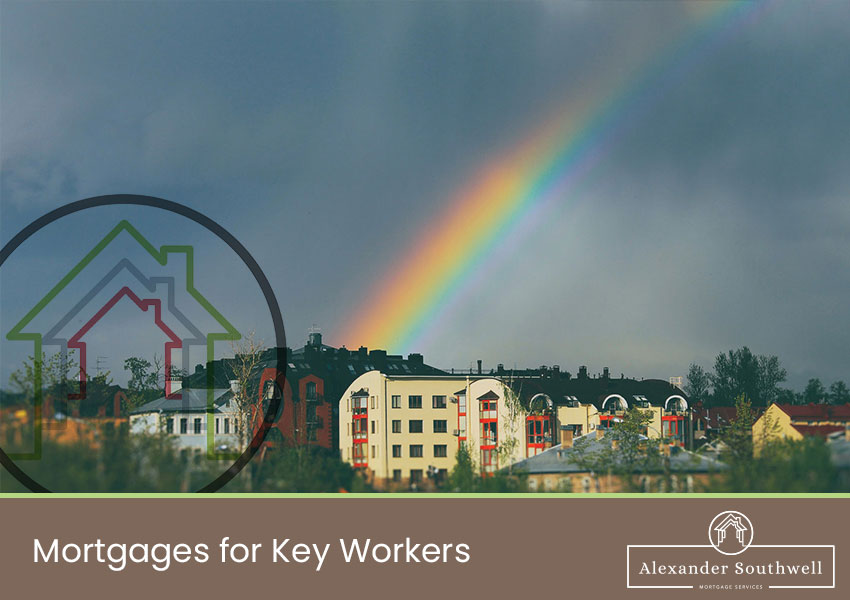 Not all of these schemes are specifically key worker mortgage schemes but key workers can still take advantage of these and they might work out better than just looking on the open market OR continuing to pay rent.
Can I get a key worker housing scheme with bad credit?
Technically, there's no such thing as a general 'bad credit' score. This is because credit scores are calculated in different ways by the UK's credit file reference agencies.
The main ones being Experian, Equifax and TransUnion.
Any adverse credit issues themselves will potentially make a huge difference.
Sadly, some lenders will view the slightest fault on your credit history – such as a late payment on a utility bill, or a missed credit card instalment – as being indicative of poor money management, and will consider you a higher risk.
This isn't to say it is impossible but it does make getting a key worker mortgage more difficult. We would always recommend mortgage advice before applying new home scheme.
Check your credit score today!
Each credit reference agency calculates your credit rating slightly differently and has a different scoring system. Which means that what counts as a good credit score will depend on which of the four major agencies your lender uses.
In order to obtain your report, click on the below link to get a 30 day free trial with CheckMyFile and download your report, after the free 30 day trial they will charge £14.99 per month & this subscription can be cancelled anytime.
Provide us with a credit report today, and uncover the issues that could be affecting your credit file! CLICK HERE to access your free credit report with the four top credit agencies all in one report!

Looking for a Key Worker Housing Scheme?
We therefore recommend that you do an online search of the housing associations & local authority which have a presence in the area you work in or are looking to work in and ask each one directly about the existence of any such schemes.
Once you've applied and have been accepted to join such a scheme, we would be delighted to help you complete on your affordable accommodation purchase.
Related Mortgage Guides – Key Worker Housing Schemes
How to get approved for a £300,000 mortgage